I saw
this photo
of Rose and fell in love with that hat she's wearing.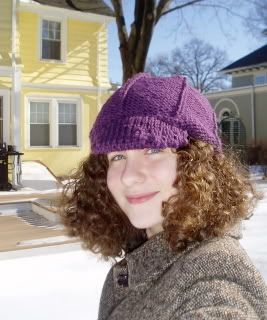 Artsy brim photo.
Here's
a side shot to show that it's a bit slouchy.
I used short rows to form the brim, but I didn't wrap my short rows so there's a gaping hole in the side of the brim! I guess it gives the hat character. :-)
And if anyone wants it, I've got a pattern for this hat.
Edit:
Pattern! This is the first real one I've written, so if anything needs clarifying, feel free to ask.
Yarn – 2 skeins Moda Dea Washable Wool (superwash merino wool, 166 yards per skein) in Plum
Needles - US 10 ½, 16 inch circular and 10 ½ dpns
Gauge (with yarn held double) – 3 ½ sts per inch in stockinette
The yarn is held double for the whole hat and brim.
CO 66 sts on circs
Round 1: purl all sts
Round 2: *p6, m1* - repeat across the row
Round 3:
*k1, p10*
- repeat across the row
Repeat round 3 until the piece is 6 inches long
Decreases-
Round 1: *k1, p2tog, p to 2 sts from end of pattern, p2tog* - repeat seven times
Round 2: work the knits and purls as set
You'll need to switch to the dpns somewhere in the decreases
Repeat the two decrease rows until there are 21 sts left
Next row: *k1, p2tog*
Knit 1 row
Break the yarn, leaving a 9-inch tail. Pull the tail through the remaining sts
Brim-
You should
wrap your short rows
to avoid getting holes in the sides of the brim.
Starting at the first CO stitch, pick up 23 sts
Row 1: starting on a WS row, p22, turn
Row 2: k21, turn
Row 3: p21, turn
Row 4: k19, turn
Row 5: p17, turn
Row 6: k15, turn
Row 7: p13, turn
Row 8: k11, turn
Row 9: p9, turn
Row 10: k9, turn
Repeat rows 9 and 10 once more
Row 11: p to the end of the row
Row 12: k the whole row
Row 13: p16, turn
Row 14: k11, turn
Row 15: p13, turn
Row 16: k15, turn
Row 17: p17, turn
Row 18: k19, turn
Row 19: p21, turn
Row 20: k21, turn
Row 21: p22
BO all sts
Put a brim-shaped piece of plastic into the brim bit. Sew the brim shut and weave in all the yarn ends.
Edit
#2
:Thanks to
love_is_all
for pointing out that the stitch pattern had the wrong number of purls. The fixed instructions are in bold.